It can't be true. No, it just can't be. My whole life (well, since July of 1994) I have lived in a fantasy world. Of SEAL. A one-named man whose sultry voice, inspiring lyrics, and scarface, have inspired me to sing karaoke many, many a time.
But all of this was created in an image. No, not God's image, Molly Buckley's image. To me, he is SEAL. Nothing more, nothing less. An attractive, wonderful, smart, African-American man named after an adorable sea creature, thing.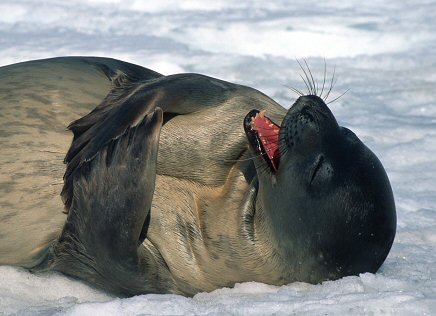 And now it's all RUINED. Heidi Klum, Seal's amazingly hot wife (which I am totally comfortable admitting) has announced that she is going to finally take on Seal's last name. This came as a total shock to me. I mean, he doesn't have one, that's why she never took it to begin with. But, alas, I have been duped. He does. And it is: SAMUEL. HIS NAME IS SEAL SAMUEL. ohmahgod.
Heidi Klum will now be Heidi Samuel.
Seal is now Seal Samuel. That is quite possibly the worst last name for a man named Seal ever.
THIS JUST IN. It's OHmahgod, BREAKING NEWS.
I have been just informed that Seal Samuel is, in fact, his name… but only PART OF IT. That's right, folks. Seal's FULL NAME IS:
Seal Henry Olusegun Olumide Adeola Samuel
Say THAT three times fast. No wonder he only went by SEAL.
I have to admit, that YES, I am disappointed in him. For lying to me all these years. He has now been rebirthed, in my eyes. He is no longer Seal. SEAL is dead to me. He is Seal Henry Olusegun Olumide Adeola Samuel. Forever and for always.
True dat.
I'm going to now include the BATMAN FOREVER video version of Kiss From a Rose to mourn the deal of SEAL as I knew him. Enjoy SEAL with an open chested black silk shirt. I know I do.
[youtube=http://www.youtube.com/watch?v=nw28PEEUfOg]