photography by Katelyn James Photography
You guys, you know what I'm loving lately? Marriage. I mean, I love it. A lot. And I love it more and more every day. I've been blessed to be married to my best friend for seven months today. Yeah, sure, it's just seven months. It's not even a year yet. But every single day I am growing and learning something new and honestly, any excuse to share more wedding photos and celebrate is okay by me.
I know I'm a newlywed and all, but when people ask me, "How's married life?" I can't help but answer, "It's awesome! I highly recommend it!"
And to tell you the truth, I don't think that there is really anything that could happen that would make me say otherwise.
Sure, everything isn't roses and smiles 24/7, but in the short time I've been married I've learned that when two people love Christ first and each other second, anything is possible.
We laugh, we play, we chase each other around the house, we go on walks, we tell jokes, and we serve one another. Unconditionally.
I've learned that when you pray circles around your marriage, it's as though everything else just falls into place.
I love that we challenge and encourage one another to do and be better. John has taught me what it means to truly love someone – including all the flaws and imperfections – from the deepest part of your being.
At the core of it all – John makes me want to serve him and serve Christ more and more every day. He also makes me laugh. A lot.
It also helps that I find my husband to be smokin' hot.
Sorry 'bout that, I couldn't be TOTALLY serious the whole time… 🙂
Welp, here's to 7×77 more and then some.
What are you loving lately? What have you learned lately?
Happy Tuesday, y'all.
Linked up today with: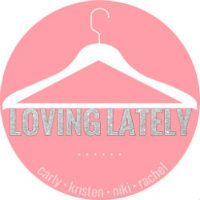 Click here to see the winner of the Willow House Tallulah Earrings Giveaway!