Blazer: Marshall's (old, similar) | Bag: Target | Earrings: Nickel and Suede c/o | Blanket Scarf: Jane | Jeans: Stitch Fix | Top: Stitch Fix | Watch: Vierra Watches c/o (use code BEINGMOLLY for 10% off your order) | Shoes: Root Collective c/o
The other day I got to being all reflective and stuff and I talked about dreams. Life dreams. Not sleep dreams. As I sat and thought about what I wrote and read it and reread it over and over again, I started thinking about comfort zones.
For the most part, I am an open book. I'm fairly comfortable in my own skin, but strangely, there are some things that just feel totally, utterly and completely out of my "comfort zone." And the more I think about what is or is not in my comfort zone, the more confused I feel because sometimes those things almost contradict themselves.
What do I mean?
Well, like, for example…
I am incredibly comfortable on a stage. Singing. Doing comedy. Giving a presentation. Teaching something. Emceeing. Hosting. Whathaveyou… if it's on a stage, I'm comfortable.
I am incredibly comfortable around my friends and family… I can be myself. I can act goofy. I can share thoughts, feelings, and whatnots.
I am incredibly UNCOMFORTABLE in front of a camera. I realize that I write a style blog and I am in front of a camera a lot… but even after all this time, I feel awkward. I feel uncomfortable. I'm self-conscious about ALL of the things.
I am incredibly UNCOMFORTABLE in a group of people that I don't really know. I can be very shy and reserved around people I've just met… but then sometimes I'll be around someone I've just met and be the complete opposite (as in, not shy and reserved), simply because it's how I deal with the fact that I'm uncomfortable. I try to make light of the situation and make people laugh… and that makes me, in turn, more comfortable.
There are times when I'm incredibly comfortable sharing my heart, my thoughts, my feelings, my beliefs and stuff with you guys here on this blog… but if I were to have that same conversation with someone IN PERSON… I'd feel weird. I have NO idea why. It's not like I don't know that those same people read this blog… but some things are just easier to talk about when I write them down. Or something.
I realize this seems random and strange, but it's true. And those things are just a few examples… I could probably write a book on the ways I am comfortable and uncomfortable in completely different, yet eerily similar situations. If that makes any sense whatsoever.
I've just been thinking about it a lot because I'm at this point in my life where I'm trying to stop worrying so much about what other people think and start doing things because I love them, because they're fun, and because I truly, wholly, madly, deeply believe in them. 
It's no secret that I am a people pleaser. It is often my greatest strength and my worst weakness. It's quite the conundrum, if you will.
But more often than not, in my great desperation to please those around me, my own wants / likes / needs / passions / etceteras end up suffering. That's okay sometimes, but after awhile, I start to lose sight of certain things. I start to lose sight of why I'm doing something or pursuing something or sharing something or producing something or working on something.
The truth is, NOT being a people pleaser is absolutely outside of my comfort zone. NOT worrying about what other people think is outside of my comfort zone. And sure, there's gotta be a healthy balance. No one likes a selfish Sally… but at the same time, sacrificing constantly for the sake of those around you can be damaging in the long run.
Does that make sense? I realize I keep asking that question, but sometimes, I really wonder if my random ramblings and meandering thoughts are even coherent. 
All of this to say is – my goal this year is to really work on pushing myself. Pushing myself in all aspects… going outside of my comfort zone – because I know it's only going to help me grow as a wife, a parent, a friend, a family member, a blogger, a photographer, etc. 
What about you? Are you a people pleaser? Are you someone who stays inside your comfort zone or do you push yourself on a regular basis? 
One of my blogger friends, Sandy a la Mode, is celebrating 5 years of blogging with some awesome giveaways this past week! For her last giveaway, a group of gorgeous and talented bloggers have come together to bring you a Mansur Gavriel Mini Bucket Bag Giveaway (in Cammello – Dolly) for ONE grand prize winner and a $100 gift card of choice to an additional winner!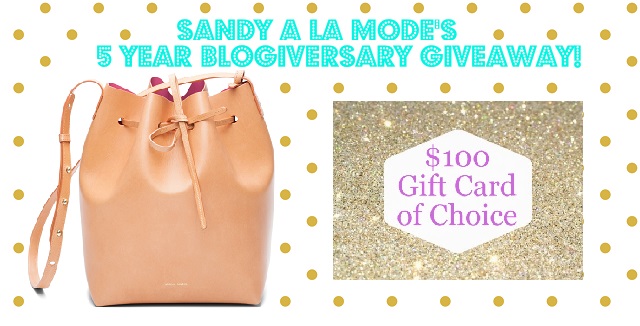 Your Host
Co-Hosts


Fizz and Frosting | Sophisticaited | Lattes and Lavender | Gentri Lee | Missy Sue


A Sequin Love Affair | Wild One Forever | Autumn Klair | Ruby Girl | The Adored Life


Lesdedrickson | The Haute Cookie | Still Being Molly | Oh To Be A Muse | KB Styled
To enter, simply complete the Rafflecopter below.
The giveaway is open until January 25. 2015 at 12AM MST.
The more entries you complete, the more chances you have to win!
This giveaway is open Internationally for all the fashion lovers around the world!
Welcome to Let it Shine! Welcome to the new, revamped Funday Monday! After two years, we decided to rename our link up to something we felt was a better fit. Welcome to Let it Shine! Why the name? Because, we want this link up to be just that…..your chance to let it shine! We will be sharing our favorites each week here, and on social media!
/ Gramatically Incorrect / A Sporting Life /
Another place we will be showcasing our favs? The Let It Shine Pinterest Board! So, go ahead…..and Let it Shine!